Love Your Weight Loss Workout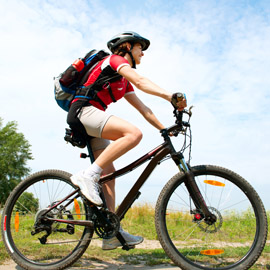 The perfect workout isn't just a workout—it's a treasured hobby. It's something that you look forward to every day, something you would want to do even if it didn't help you burn calories. It's something that becomes a rewarding and important part of who you are, not just another part of your weight loss program.
Finding a workout you enjoy will help you stay on track during medical weight loss because you'll never have to force yourself to do it. When you find a workout you love, you may forget all about the hard work you're doing—until the next day at least, when your sore muscles remind you what a serious workout your athletic hobby gave you.
With so many options out there for exercise, there's bound to be something that meets your interests. Here are a few ideas to look into:
For the Adventurous Type
Not everyone likes the gym, and that's OK. There are tons of workout options in the great outdoors, and they offer many benefits that indoor workouts can't. Just remember that outdoor workouts require a little more caution and planning—bring everything you need to stay hydrated and cool in the Southern California heat and be sure all your gear is in working order before you head out.
There are trails and beautiful parks all over the LA area, which can be perfect for activities like:
Hiking
Cycling
Kayaking
Geocaching
For the Social Butterfly
If you're torn between hanging out with your friends and exercising, why not do both? Many workouts are great ways to meet new people and spend time with those you're already close to. Though finding a good exercise partner is one way to make every workout more social, you can also try signing up for:
Dance classes
Adult sports leagues
For the Inner-Peace Seeker
Any workout can help you relieve stress, but some are especially good at helping us calm down and center ourselves. These workouts are typically very gentle, making them accessible to nearly anyone, but don't be fooled—they can also help you burn serious calories and build serious muscle. For a more meditative way to exercise during medical weight loss, look for studios near you that offer classes in:
If you're fed up with the same old workout, why not try something new? These are only a few suggestions among countless possibilities—find one that interests you!