Dr. Payam Kerendian
Double Board Certified Physician in Family Practice and specializing in Bariatric Medicine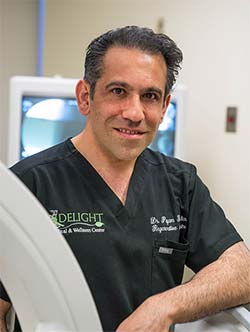 As a Bariatric Physician and member of the American Society of Bariatric Physicians, Dr. Kerendian is currently supervising a new sophistication in weight management by providing comprehensive nutritional and medical evaluation, treatment, and strategies for long-term prevention. Since 2006, Dr. Kerendian has helped his patients lose over 55,000 pounds by applying his revolutionary weight loss methodology.
But Dr. Kerendian's leadership doesn't stop at weight loss. Dr. Kerendian has established himself as a forward-thinker in pain management as well.
Through the use of an innovative brand of pain treatments including prolotherapy and trigger point injection therapy, Dr. Kerendian has helped hundreds of patients deal with the underlying causes of pain, rather than simply masking pain symptoms. With prolotherapy, Dr. Kerendian is able to stimulate a local inflammatory process around the damaged ligaments and tendons which increases the blood and nutrient supply to areas of pain allowing the tissues to repair themselves naturally.
Dr. Kerendian believes that a patient needs to be treated as a whole human being rather than different body parts or different systems.The effectiveness of his approach lies in his ability to listen to his patients before tailoring a personalized and sustainable plan for each individual.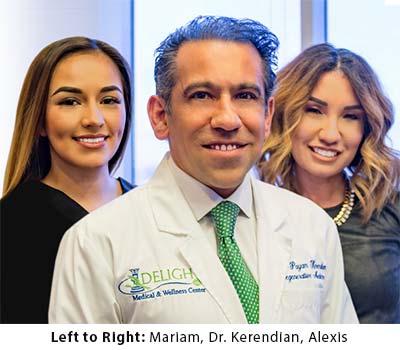 Dr. Kerendian completed his education and received his medical degree with special emphasis in the musculoskeletal system. He then trained at one of the top rated family practice residency programs in the nation. San Bernardino County Hospital allowed him to treat multiple and complicated pathologies in patients from all aspects of life. He is certified as a knowledgeable physician with both the American Osteopathic Boards and American Medical Boards.
Memberships:
Member of American Society of Bariatric Physicians
Member of North American Association for the Study of Obesity
Member of American Obesity Association
Member of American Osteopathic Association of Prolotherapy
Credentials:
Certified with Board of Family Practice
Certified with Board of Osteopathic Family Practice
Specialization in Rejuvinative Pain Therapy
Specilization in Bariatric Medicine
Who is Dr. Payam Kerendian?
Dr. Kerendian is the 3rd child of hard working and dedicated parents who immigrated from Iran in the early 1980's for a better life and opportunity to provide for their children.
Los Angeles has been his home since 1984, where he attended California State University at Northridge.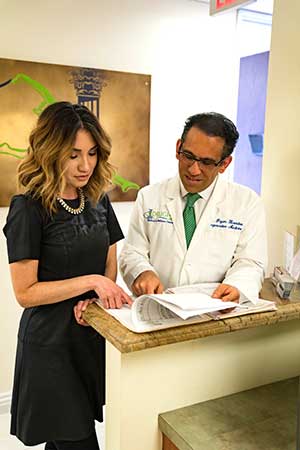 Hard work was what got him accepted to a Medical School in Pomona California. Western University of Health Sciences was the proper school that he chose to attend because it allowed for a more complete and holistic approach to patient care, along with strong education that taught about whole humans rather than simple body parts.
He chose to spend his residency years at Arrowhead Regional Medical Center, which is the hospital for Southern California's largest county. This experience exposed Dr. Kerendian and held him accountable for patients from the worst cases of medical conditions. Those who presented for trauma at this level II trauma center, or those who received care in surgical ICU, medical ICU, obstetric ward, and even the psychiatric ward.
Besides the advanced in-hospital care that he provided, he also oversaw the primary care of many individuals who were unfortunate to have proper primary care by other physicians. He managed the full array of complex medical conditions and was successful in improving patients' medical conditions more than his other colleagues. He was also involved in the Best Behavioral Health Program in the nation.
How did Delight Medical start and what does Dr. Kerendian offer?
After the completion of a top-rated and intense residency program, Dr. Kerendian decided to work at multiple other notable and reputable health care organizations. During this time, he received multiple job offers, one of which asked him to be the Head Physician of a primary care group at Healthcare Partners. However, Dr. Kerendian rejected this offer because he did not agree with the traditional model of care that utilized the "Band-Aid" approach. He wanted to start his own sophistication of care model.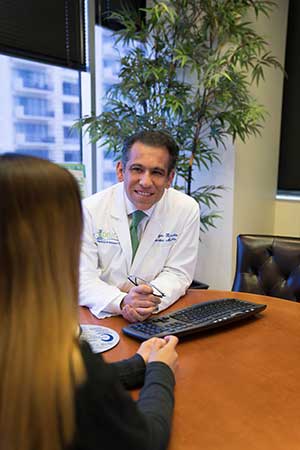 Dr. Kerendian founded Delight Medical Center in 2006 with the vision of offering patients a proper twist to primary care health, which takes the best knowledge of traditional medical care and offers a more personal and in-depth approach to patient care. This is detailed and tailored to each patient considering the individuality of each person. He has become a sub-specialist in the fields of Bariatric & Obesity Management, Osteopathic Musculoskeletal Care Management & Therapies and Hormone Management & Optimization.
Dr. Kerendian is loved by his patients, who refer their family and friends because they recognize the uniqueness of his knowledge and method that has not only addressed their medical care, but all attest to an IMPROVEMENT IN QUALITY OF LIFE. He takes the time to listen to his patients, educates himself on all cutting-edge techniques and medical knowledge, recruits the appropriate diagnostic tests, provides a professional and comfortable environment and requires staff efficiency.
Dr. Kerendian prides himself of not getting distracted by the superficial symptoms yet searching and utilizing them as clues to diagnose the bigger underlying condition that is the culprit behind the different symptoms. He plans effective care management for all patients, which prevent further comorbidities and lead the individual to a MORE EFFECTIVE, LONGER, HEALTHIER and HAPPIER life. He has advanced skills with techniques such as Platelet Rich Plasma, Stem Cell Therapy, Prolotherapy, Osteopathic Manual Therapy including Myofascial Release, Trigger Point Therapy, Joint Injections, Hormone Management in Menopause, Andropause and Hypogonadism, Mesotherapy, Botox, Hormone Pellet Insertion procedure, C-ARM and or Ultrasound Guidance Injections, skin lesion removals and Sclerotherapy along with others.
Dr. Kerendian takes pride in having all these skills and his 3 sub-specializations as tools for the overall task of complete, appropriate, and effective patient care.
Patient Reviews
Dr. Payam Kerendian
5

based on
10
reviews
2080 Century Park East, Suite 607
Los Angeles
,
CA
90067
(310) 859-1077
Dr. K is committed to providing his patients with state of the art medical treatment

I have been a patient of Dr. Kerendian's for the past ten years and have always felt as though Doctor genuinely considers my personal health and well-being a priority. I have seen Dr. K for various conditions and have always been confident in his judgement. He is caring, sincere and empathetic. Dr. K is committed to providing his patients with state of the art medical treatment. Furthermore, his staff is gracious welcoming and knowledgeable. I highly recommend Dr. Kerendian.

A.C.
Dr. Kerendian is phenomenal

The staff, (James and Alexis) is always pleasant, helpful and informative. Dr. Kerendian is phenomenal. I had multiple treatments for my back and knees and I never felt better. My wife and I are very grateful.

G.R.
I am so satisfied with Delight Medical

When comes to the progress in my body, I will tell you that I am so satisfied with Delight Medical. I am 63 years old and I have had at least 63 doctors work on me. With that in mind, I can tell you that Dr. Kerendian is the most responsive and well educated physician I have ever dealt with. His staff which includes James and Alexis has treated me with care and dignity. I am so beholding to their generosity and professionalism. I only wish that I could recommend their facility and services to more people so that they will understand the benefits that they can receive here and the relief that they could get here.

G.R.
They go out of their way to accommodate your schedule

I have been coming to Delight Medical for a year. The Doctor's staff are very friendly and knowledgeable. They go out of their way to accommodate your schedule. It is hard to find a Dr. who has a good bed side manner. Dr. Kerendian takes the time to listen to your concerns and implement a game plan that will end with results. Over the course of my treatment the Dr. listens to various issues I have had and adjusted my treatment accordingly. I have made great strides in my health after attending various doctors with no results. I cannot thank Dr. Kerendian enough for his help and recommend him to anybody that has any type of weight issues or knee pain.

J.C.
I would highly recommend Delight Medical!

I have been going to Delight Medical for over 8 years and have had an overall excellent experience. I have seen a great deal of improvement in my overall health since being a patient. I've seen Dr. Kerendian and his staff for everything from weight loss, low energy level, and back pain along with my yearly physical. Dr. Kerendian and his staff are very professional and have made me feel comfortable. They and are always accommodating with me by being very flexible in scheduling my appointments. Dr Kerendian is overall very knowledgeable, kind and patient with me and answers all the questions I have during my appointments. He takes the time to explain all his treatment options and explains the pros and cons. I would highly recommend Delight Medical!

J.T.
Prolotherapy my pain has improved about 95%

When I first came to Dr.Kerendian I didn't think he could do much for my years of back pain. Little did I know that with a simple procedure like Prolotherapy my pain has improved about 95%. I hardly ever use any medication for pain relief anymore. I highly recommend the procedure.

T.G.
I'm a believer!

Dr Kerendian and his staff are great. I recently had the trigger points injections and prolo therapy for reoccurring problems in my back and shoulders. After a few treatments, the discomfort is gone and my range of motion is back. Dr K, James and Alexis are miracle workers. I was a skeptic, now I'm a believer!

G.R.
His staff is stellar, his knowledge phenomenal

Finding Dr. Kerendian was a blessing. I had physical issues no doctor or chiropractor could assist me with. I saw Dr K's reviews online and made an appointment. Now he is my go-to for anything he handles; he is that good. I feel so much better. His staff is stellar, his knowledge phenomenal, plus Dr. Kerendian has a terrific bedside manner. I give an A+ recommendation.

D
I feel 100% healed

I've been coming to Delight Medical for almost a year and have been treated by Dr. Kerendian for supartz injections and prolo injections on both knees and after 5 injections on each knee I feel 100% healed. I came to Dr. Kerendian with severe to chronic pain on both knees and mild sprains, I highly recommend supartz and prolo injections. Dr. Kerendian is an amazing Dr. He has also helped me with weight management. I truly love my results. The staff is wonderful from Alexa at the front office to James V the medical assistant. I'm truly thankful to all of them for taking care of me.

N.S.
Dr. Kerendian and his staff are awesome!!!

Dr. Kerendian and his staff are awesome!!! I would recommend anyone who is experiencing tension, stress or painful knees to see Dr. Kerendian. Thanks for all you guys do here.

K.A.
Incredibly caring, thorough, and professional

I have been seeing Dr. Kerendian for several years for various treatments and have found him and his entire staff to always be incredibly caring, thorough, and professional. Dr. Kerendian never makes me feel rushed, and always takes time to listen and spend time with me to address any medical concerns I may have. I frequently also refer friends to Dr. Kerendian and only heard positive feedback.

I consider Dr. Kerendian to be my GP as he has become by go-to doctor for virtually all medical needs. If my medical issue is not within his areas of specialty then he has always quickly referred me to an amazing specialist with whom he communicates.

I live between LA and NYC and truly have found no other doctor whom I wish to visit besides than Dr. Kerendian.

M.T.