Parking Directions for Century City Medical Plaza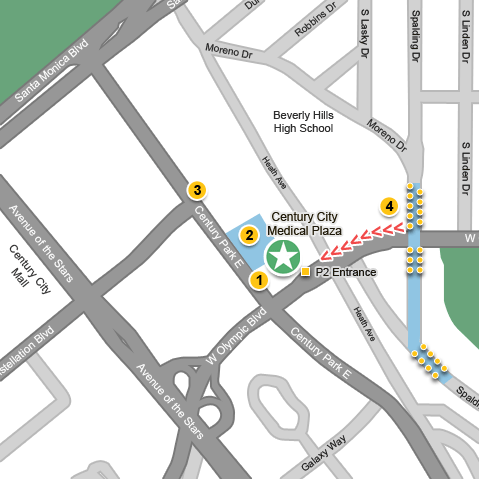 Parking Options for Century City Medical Plaza:
2080 Building Parking (Valet Parking)

Entrance is from Century Park East
If you wish to Self Park, ask the attendants for that favor.
Delight Medical has pre-purchased discounted tickets from this parking company, and is forwarding that discount to our patients. You can save 20-40% off of their regular parking rates.
Regular Parking rates if paid at the parking lot cashier are $3 per 20 minutes or $9 for first two hours. (Remember you can get 20-40% discounted rates from Delight Medical Office)

Self Parking Lot (Blue Highlighted Area)

There is a self parking lot Adjacent to the building on Century Park East.
Prices for this lot are $2 per 15 minutes.
Delight Medical Does not offer any discounted tickets to this parking lot.

$10 Flat Fee Parking Lot
Free 2hr Street Parking (Blue Highlighted Area)

Shortcut path to the building (walking) *Red Arrows
There is a Monthly Parking (P2) entrance gate street level facing Olympic. You can

walk into

this entrance and take the P2 elevators straight to the 6th floor.
Please note this gate closes after 5pm.