Navigating the Food Store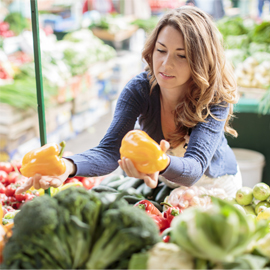 Making the transition to a healthy diet is a central component of your medical weight loss program. After you finish your meal replacement diet you will need to slowly transition back to whole foods. For a lot of people this is the hardest part. Losing weight on a controlled diet plan is manageable, but maintaining that weight loss once you are free to eat regular foods again can be challenging.
To eat healthfully you will want to start cooking more meals at home and avoid restaurants until you are confident in your ability to maintain control and manage your environment when eating out. In order to cook healthy meals at home, you need to know how to handle the food store.
Here are a few basic tips for healthy food shopping:
Plan your menu: Spend an hour looking through cookbooks and plan out what you are going to make for meals during the week. Then, make a list that includes all of those ingredients.
Make a list: When you are at the food store avoid the BOGO (buy-one-get-one) aisles and stick to what you went in for. By avoiding impulse buys you will leave with everything you need for a healthy week and you will avoid spending too much on extra snacks.
Set a budget: If you realize you are out of a few things and are making a small, mid-week stop at the food store, tell yourself how much you are allowed to spend while you are there. A 15 dollar budget doesn't have much wiggle room if you are purchasing milk, vegetables, eggs and chicken breasts.
Try the Farmers Market: Instead of purchasing your produce from the food store or loading up on frozen veggies, head down the street to your local farmers market to get your produce. Farmers markets are often cheaper than the food store and you are less likely to buy junk food while you are there.
It doesn't matter where you live or what type of food store you are walking into, almost all food stores are structured the same way. The middle of the store is filled with cookies, cereals and cake mixes while the perimeter of the store is lined with produce, dairy and meats.
When you go to the food store, stick to the outer perimeter. Walking up and down every aisle may help you remember something you wanted to get, but more likely than not it will tempt you to indulge in a bag of chips or buy a few too many boxes of your favorite snack. By avoiding those central aisles you are more likely to buy healthy and natural foods.
Ask your weight loss doctor for even more tips about what you should buy the next time you are at the food store.