Don't Let Summer Excuses Enable Adolescent Weight Gain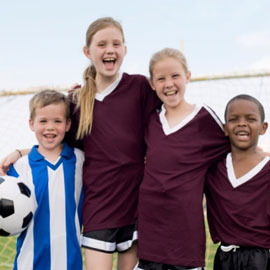 We've all grown to accept that our children are likely to let their science and math skills nose-dive over the long summer holiday but what about their health? Your child's health is also at risk of decline once school lets out for summer, as a study from the University of Texas suggests that children and teenagers gain weight two to three times faster during the summer months compared to the school year.
Lack of a set summer schedule can lead to adolescent weight gain.
Though children seem to be always on-the-go during the summer, changes in their schedules also incite changes in their activity levels and diets that can lead to accelerated weight gain. When children stray from their previously structured daily schedule, they are more likely to put on a few extra pounds and less likely to engage in activities that can help them lose weight.
Parents could blame this on television or computer games, but experts believe skipping meals may be the main culprit of adolescent weight gain during the summer. Without the need to get up early to make it to school on time, children and teenagers happily sleep in, sometimes until lunch-time, causing them to miss out on regular morning meals. Skipping breakfast may cause kids to feel hungrier and possibly tempt them to over-indulge later in the day.
Lack of scheduled physical activity is yet another reason why children are more susceptible to weight gain during the summer. Though some kids continue to keep up with sports during the long holiday, often unsuspecting parents still treat the team to ice-cream and other sugary treats after the game. It's easy to forget the rules of healthy living still apply to the summer months, so parents need to put in extra effort to make sure their children are eating healthily and staying active.
How do you make sure your kids eat healthy all summer long?
It may be tough, but there are ways to ensure your kids receive proper nutrition even when you're not around to supervise 24/7.
Kids love to snack, especially during the summer. It's a good idea to get rid of any existing soda or processed food products that are in your pantry.
Make sure when your kids do snack they do so healthily by keeping your refrigerator and pantry stocked with fresh fruits, vegetables and fiber-filled snacks.
Even if your child is active in sports, don't buy the team sugary sports drinks. These tend to be high in calories and low in nutrition. Offer children zero-calorie flavored waters instead.
Often, children use the hot weather that accompanies summer months as an excuse to stay indoors and avoid physical activity. Though it may be hot outside in Beverly Hills and Bakersfield, there are plenty of indoor programs for your children to participate in to help them stay in shape and maybe even lose weight if they're carrying excess pounds.
Looking for local camps to keep your kids healthy all summer long?
Check out some of Beverly Hills Club's summer camp programs. Camps are available to non-members and are open to children as young as four and up to 13 years of age. Their 12-week summer camp program is surely enough to keep your kids busy and active the whole summer break.
Bakersfield offers children myriad sports and recreational programs. The Bakersfield City Just for Kids website lists over twenty organizations and sports centers to keep your children motivated and moving this summer. Check out Bakersfield Ice Sports, Bakersfield Blaze Baseball and the Bakersfield Speedway websites to see if summer programs and camps are offered.
Summer is still a time for your children to experience a little bit of relaxation and freedom, but make sure they do so in a healthy manner. Making an effort to monitor your kid's nutrition and physical activity levels will help you ensure a healthy and happy kid all summer long. If you're worried about your child's nutritional health this summer don't hesitate to speak with Dr. Kerendian.