Add Walking to Your Family Holiday Fun
January 2010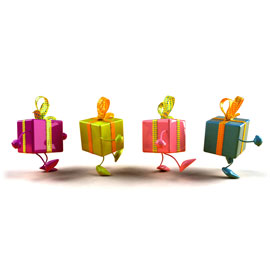 The holidays can mean packing on extra weight thanks to excessive amounts of food and a wide variety of high fat and sugary holiday treats. Burn off the extra calories by fitting more physical activity into your daily routine. The holidays bring more food, but they also bring a great excuse to get moving.
Add Walking to Your Family Holiday Fun
Take a walk through the lights. Start an after dinner tradition of taking a walk around the neighborhood to check out the holiday displays. Cap off special dinners and parties by going to a new neighborhood or visiting a large municipal display that you and your family can walk around and enjoy together.
Forget shopping online. Make a point of doing your shopping on foot this year and get your walking done indoors at the local mall. You can head to the mall before the stores open for some power walking, or incorporate your walking into your holiday shopping.
Walk and talk. The holidays are a great time to make a point of spending more time with your loved ones. Walking makes for a much more relaxed environment for reconnecting. Invite friends and family you haven't talked to in a while, or as much as you'd like to, to go for a stroll with you and catch up.
Walking regularly will not only help you maintain your weight during the holiday season, it will help keep your energized during the busy holiday season and boost your holiday mood.