An Exercise Partner: Your Best Friend for Weight Loss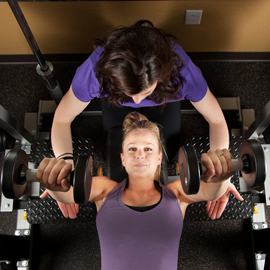 Weight loss in Los Angeles  is much easier with the help of others. No matter how highly you value self-reliance, weight loss is often a difficult undertaking to face alone. This is why so many turn to medical weight loss, but your weight loss doctor isn't the only person who can make a difference in your health. Friends and family members can have a big influence on our habits. When you start to lose weight, your nearest and dearest may offer words of encouragement that keep you focused and motivated on the path ahead. While such emotional support can be a powerful asset, your friends can play a much more concrete role in the day-to-day progress of your weight loss program by becoming an exercise partner. By working out with you, your friends can be there for you every step of the way. When you feel unmotivated, an exercise buddy can get your butt out the door and into the gym. Having a friend along can make the difficulty of adjusting to a fitness program much more bearable, as you'll be able to help each other grow healthier together.
A workout buddy can make a huge difference in your weight loss program by:
Helping you enjoy exercise more. Some folks seem content to glue themselves to headphones for the duration of a workout, but others may find the typical gym atmosphere tedious. Bringing a friend along gives you someone to talk to, which will make any exercise session fly by faster. Research has even shown that working out in a group can boost our endorphin levels to increase pain tolerance.
Pushing your workouts further. Even if you don't have a competitive bone in your body, you may find a friendly rivalry forming between you and your buddy. As you grow stronger together, you can continue challenging one another to do better.
Keeping you accountable. When you'd rather sink into the couch than sweat it on the treadmill, your workout buddy can give you the push you need to stick with regular exercise. A buddy can also keep you on task during a workout when you find yourself slacking.
Exercising with others can improve your weight loss experience, but that doesn't mean that everyone in Los Angeles will be the perfect weight loss workout partner. To find a buddy who can help you make the most of your workouts, look for qualities like:
A comparable fitness level. If you work out with someone much fitter than you, it can be a learning opportunity, but the partnership might not last long. Find someone you can grow with, someone who shares the same aspirations you do.
A good attitude. Your best friends may seem like obvious choices, but they may not be the best motivators. Find someone with a can-do attitude who can tell you in a friendly way to try harder.
A flexible schedule. You'll need someone who can make it to exercise sessions at the same time you can.
A workout buddy can make all the difference in your program. Has an exercise partner helped you during weight loss in Los Angeles? Share your experiences in the comments below.