Finding a Gym Fit for Medical Weight Loss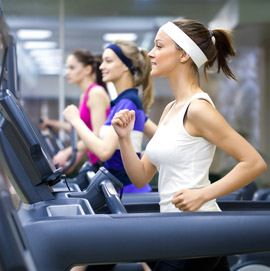 Even if you enjoy exercising at home or in the great outdoors, a professional fitness center can offer many benefits during your medical weight loss program. Signing up with a gym as you lose weight can help by giving you access to:
State of the art workout machines
Fitness classes and instructors (often free with membership)
Personal training
A sociable atmosphere to exercise in
Pools, saunas and other amenities
Though membership at a great gym can be helpful, you'll still need to find the right one. The Los Angeles area is packed with gyms, from giant fitness centers to humble yoga studios. To make sure you'll make the most of your membership, it will help to ask yourself questions like:
How Far Am I Willing to Travel?
Your gym's location is crucial because it will determine how frequently you'll actually go there. If you have to brave a lengthy drive through LA traffic to get to your gym every day, there's a good chance you'll find yourself skipping a few workouts regardless of how impressive the gym's equipment is.
Picking a gym close to home will make it easy to exercise whenever you like. You can also choose a gym between work and home if you plan on stopping for a workout during your commute.
How Do I Want to Exercise?
Each gym offers different facilities to its members. If you're interested in trying a variety of different workouts and machines, you may feel most at home at a large fitness center that offers classes and opportunities to explore the wide world of exercise. If you've already found a workout you love, like Pilates, Zumba, yoga or dance, a small studio that caters exclusively to one of these activities will give you more personal attention from the instructor.
Can I Try It Out?
Once you've narrowed down your options with the first two questions, it's time to take your potential choices for a test drive. Many gyms offer tours or free trial periods to help you get an idea of what it's like to be a member.
As you take each gym for a spin, remember to pay attention to things like:
Equipment. Is everything clean and well-maintained?
Staff. Are the employees friendly, helpful and well-informed? Do the instructors and trainers have credentials?
Hours. Will the gym's operating hours match your schedule? What about the class schedule?
Cost. Is this where you'll get the most bang for your buck?
Many people try several gyms before they find the right one, but spending the time now will pay off in the long run. Do you have any gyms to recommend to other medical weight loss patients in the Los Angeles area? Let us know in the comments!