Eat Out on the Cheap and Lose Weight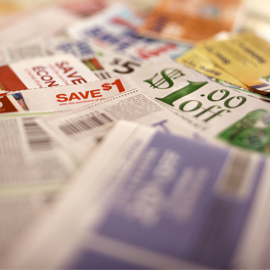 For many people, dining out is one of the first things to go when the budget is getting trimmed. The good news is that, eating out less can go a long way toward helping you lose weight. With a few helpful tips for stretching your budget and keeping calories in mind, you can still enjoy the occasional opportunity to eat out.
Six Ways To Eat Out on the Cheap
Get it to go. When you order takeout instead of eating in the restaurant, you usually save money by not ordering drinks or dessert. Also, if you're a decent tipper, you'll probably save another 10 to 20 percent by not having to leave a tip at the end of your meal. Don't be confused though, I'm not suggesting fast food, just takeout from restaurants you normally eat at.
Clip coupons. Many restaurants put savings coupons in local papers, magazines, and phone books.
Join email lists. Most restaurants now have websites with online email clubs. Members often receive discount codes by email.
Get 2 meals for the price of 1. You don't need a coupon to get two meals out of one. Have the server put half of your meal in a to-go container before you even start and enjoy your leftovers the next day. This works especially well for people who are trying to lose weight and at restaurants with oversized portions.
Eat lunch or an early dinner. If you go out for an early dinner, you may be able to save money by taking advantage of lower lunch prices.
Make every side count. If your meal includes a side item that you don't feel up to eating, request a side that will make a good foundation for another meal at home. For example, use a side of fruit for tomorrow's breakfast or turn a side salad into lunch by adding a little lean meat or chicken for protein.
The key to saving money when you go out to eat is to take advantage of savings and make sure you find a way to use all the food you pay for. But the way to maintain your weight when you go out to eat is to portion a single restaurant serving into several meals –  now you have found economy in both dollars and calories.