Healthy Diet and Daily Exercise Will Lead to Weight Loss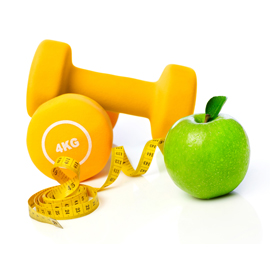 Here in Beverly Hills and Bakersfield you are likely surrounded by beautiful people with beautiful bodies and this may have led you to make a resolution to lose weight, eat better, work out, or all of the above. The best way to achieve these goals is to do them all together.  Eating a healthier diet as well as exercising daily will lead to an overall healthier lifestyle and weight loss. By changing your lifestyle you are ensuring that your weight loss will last and you will not just put the weight back on after you are finished with the diet.
Successful weight loss means you need to burn more calories than you are consuming. While this sounds simple enough, it is important to remember that not all calories are created equal.  The calories found in a store bought cookie are very different than the calories found in an egg. The egg has calories but it also has certain key nutrients that your body needs to function efficiently, the cookie has virtually no nutritional value and just has empty calories that will likely just get stored and turned into fat. So be sure that you are not only counting calories but also cutting out as much processed and foods with added sugars as possible.
With obesity a growing problem in this country and around the world medical weight loss has taken on an increasingly important role in maintaining overall quality of health. So good luck on your weight loss journey and remember when you are at the market try not to buy those processed foods, if you don't have them in the pantry you can't eat them.