Low T Therapy Can Combat a Host of Common Symptoms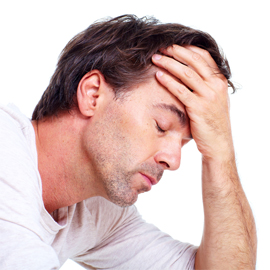 More than 13 million men in the United States suffer from low testosterone levels due to the natural decrease in hormone production that occurs with aging, often beginning at about age 30. Yet, there are a big portion of population that have the condition called Hypogonadism (insufficient testosterone production unrelated to age). If you're 35 or older, the symptoms of low testosterone, or "low T," may sound familiar:
Loss of muscle mass
Hair loss
Weight gain
Sleep disturbances
Moodiness, irritability or depression
Diminished sex drive
Erectile dysfunction
Just as women can benefit from hormonal therapy once they enter menopause, the symptoms of low testosterone in men can be treated through testosterone therapy.
Low T: Causes
In most cases, low testosterone in men occurs as part of the natural cycle of aging. During adolescence, testosterone levels peak and remain high into early adulthood. But as we age, our bodies begin to produce less of the hormones necessary for healthy reproduction, which means decreases in levels of testosterone in men and lower levels of estrogen in women. The average decline in testosterone levels is about 1 percent per year, but it can be higher in some men; by the time a man reaches age 60, natural production of testosterone may be half of what it was during adolescence.
Far less often, low T can be the result of disease, injury or even prescription or nonprescription drug use. A simple blood test can determine if you have low T, and a physical exam can help determine if age-related changes are the cause or if there might be another factor at play.
Testosterone therapy: How does it work?
Once the diagnosis of low T has been made, testosterone therapy can be effective in relieving many of the symptoms low T causes. After your physical and blood testing are complete, you and your doctor will decide on the type of treatment that can help resolve your specific symptoms. During treatment, ongoing blood work will ensure your treatment uses the lowest amount of hormone required to achieve symptom resolution.
In addition to testosterone therapy, lifestyle changes such as weight loss, healthy eating, regular exercise and quitting smoking can also help improve symptoms of low testosterone in men. The first step in diagnosing low T and getting appropriate treatment is to schedule an evaluation with Delight Medical Center. Dr. Payam Kerendian has helped hundreds of men throughout the Los Angeles area resolve their low T symptoms quickly and effectively.
Are you experiencing any of the symptoms of low T? Contact our office today to schedule your evaluation.