Medifast vs. Optifast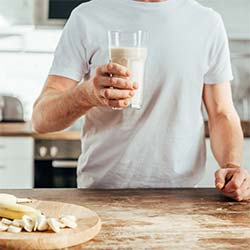 Medifast and Optifast are two of the markets leading brands of meal replacements for weight loss. They both have the same purpose of losing weight, but are different in some ways. So what sets them apart? Are they the same? And, which is better? In this article, we will discuss the benefits, the differences and ultimately, which is the right one to choose that best suits your needs, goals and health-related concerns.
Optifast Overview
Optifast is a leading brand of meal replacements that provides high-fiber meals in addition to their low-fat protein products that are packed with nutrients and minerals for a balanced diet. Optifast consists of a medically supervised weight-management program that assists with transitioning individuals back to "everyday" meals so that they can lose weight and actually keep it off. Optifast is a unique program because in addition to medical advice, Optifast provides comprehensive patient education and support to those individuals within the program and is geared towards patients that struggle with obesity or have a BMI > 30.
Upon meeting Dr. Kerendian, and telling him my struggles and concerns, and even issuing him the challenge of "if you can make me lose weight, it will be a MIRACLE", he just smiled and said ok, you're on. And so it began… Over the next 6 months, I miraculously LOST weight at each visit! I was amazed at every single visit when the scale said less. After the first month, where I struggled more mentally with the changes than anything, it was absolutely painless. I hate to use the term "easy", but it actually was! Since I chose the option to use Optifast, I didn't have to worry about making meal decisions, I just had to worry about drinking my drinks when I was supposed to and that worked for me!
Cheryl B.
In addition to Optifasts' weight-loss benefits, Optifast has proven to show that their program has helped lower blood glucose levels, decrease High Blood Pressure by an average of 10%-15% and decrease High Cholesterol by an average of 15% on their program. Studies have also shown to have long lasting results which proves that Optifast is not another fad-diet/program to lose weight but to help keep the weight off and improve over-all health.
Medifast Overview
Just like Optifast, Medifast is another leading band of meal replacements. But what sets it apart is that Medifast does not require medical supervision while on the program and also serves a more targeted population that do not specifically struggle with obesity unlike Optifast does. Medifast also provides low-fat protein and high-fiber meals to help optimize weight loss and control appetite a lot longer and offers many different meal plans, which adds flexibility and more food options.
Comparison
| | | |
| --- | --- | --- |
| | Optifast | Medifast |
| Program Length | 26 weeks | Based on Diet Plan and goals |
| Program target audience | Obesity; BMI > 30 | None Specific |
| Options | 3 options and flavors: Shakes, Bars, Soups | 65 different options and flavors: Bars, Shakes, breakfast foods, soups, pastas, desserts |
| Proven Health Benefits | Clinically proven to lose weight and keep it off as well as decrease blood glucose levels, High Blood Pressure, and High Cholesterol | Clinically proven to be safe, effective and to help lose weight and keep it off |
| Lasting Result | Yes | Yes |
| Medical Supervision | Yes | No |
| Price | Varies on Plan and personal health goals | Varies on Plan and personal health goals |
Conclusion
Both have been proven to be highly effective towards the primary purpose of losing weight and keeping it off. In the table above, we have weighed out the main benefits for both programs and by looking at the table; you can see which program will benefit you the most. But to truly know which program will benefit you and help you address all your health concerns and obtain all your health goals, you should see a Physician in Los Angeles that specializes in medical weight management so that they can do a thorough evaluation on your overall health and address any possible underlying issues that you may have and prepare a custom made plan of care specific to you and your needs and goals.