Hiking for Health
How to make the most of a Southern California wilderness workout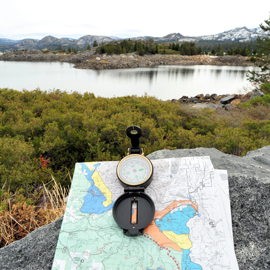 Southern California is home to more than just movie stars and sunny beaches—it has some of the most incredible wilderness areas in the world. In just a few hours' drive from Los Angeles, you can be in the world's hottest desert, among the world's largest trees or walking the foothills of the stunning Sierra Nevada Mountains.
If you're a nature lover of any kind, there are few better places to live. Hiking is an excellent exercise to help residents of Los Angeles lose weight and enjoy the stress-relieving qualities of Mother Nature. However, as simple as hiking may seem, there are many mistakes that hikers can make that reduce its effectiveness as a workout. To fully experience the therapeutic qualities of working out in the great outdoors, take advantage of these tips.
Pack right.
Though the motto of the Boy Scouts can extend to all aspects of life, it is particularly wise when considering any outdoor excursion: Be Prepared. If you don't bring the right gear, you're almost guaranteed to regret it later. However, it is possible to be over-prepared, as you'll definitely be feeling the excess weight in your pack as you get further down the trail. Regardless of difficulty, any hike necessitates bringing along the following equipment:
Map and compass. What could be more troubling for hikers than getting lost in the woods? Well, maybe an angry bear, but bringing along an up-to-date map of the trail you're taking and a compass that can point you home will take some of the stress out of navigating unfamiliar terrain. Just be sure you know how to read both of them properly.
Sunscreen and sunglasses. Even if you're below the tree line, that bright summer sun can wreak havoc on your skin and eyes. Make sure you're protected.
Water. Dehydration can spell trouble for any workout. Experts recommend bringing about 3 to 4 liters of water for every person in the group. And don't think you can fill up from that babbling forest stream—untreated water can put you at risk for many different waterborne diseases.
First aid kit. In case of emergency, be sure your first aid kit is big enough to provide for all members of the group.
Snacks. Nibbling throughout your hike will ensure that you maintain energy levels and don't get sick from overeating. Try trail mix, peanut butter, crackers and jerky.
Flashlight. Even if you plan to end your hike before the day is through, getting stuck in the dark woods without a flashlight can spell trouble.
Poncho or rain jacket. Rain may be rare in Southern California, but weather conditions can change quickly and unexpectedly.
Pull out the poles.
Poles are useful for more than just skiing—pro hikers often use them for their assistance in navigating rocky terrain or moving down tricky slopes. Poles take a lot of pressure off of your joints, making them especially important for hikers with knee, hip or ankle issues. They also help to redistribute your weight as you go up a hill, helping you engage your upper body and arms in addition to your legs. This will help you burn calories, so the importance of poles for a hiking workout cannot be overstated.
Pick the right path.
This is a common pitfall for novice and expert hikers alike. Beginners can often get discouraged by choosing a trail that is much too hard for them, exhausting themselves with difficult terrain or lengthy hikes, but those looking for a more strenuous workout can also lose interest by picking a trail that doesn't offer much of a challenge. Trails are rated 1 to 5 based on difficulty level, with 1 and 2 offering low risk, 3 and 4 requiring increasing amounts of scrambling up rocky terrain and 5 essentially requiring rock climbing. Be sure to check the difficulty and elevation levels of a trail before you choose to hike it or you may end up seriously regretting it.
Southern California has no shortage of great parks to explore. If you're interested in the beauty (and heat) of a desert landscape, few places are better than Death Valley National Park or Joshua Tree National Park. For incredible views of the largest living trees on Earth, visit Sequoia & Kings Canyon National Parks. For some of the Sierra Nevada's most stunning waterfalls and mountains, make the drive up to Yosemite National Park. Just make sure you're ready for the challenge.