Angel: 50 pound weight loss*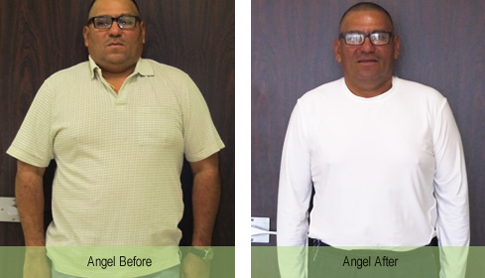 Angel first came to Delight Medical in December 2010 right in the midst of the holidays, a period that most people consider a bad time to start a diet. However, he has joined many other Delight Medical patients to prove this myth to be false –There is never a "bad" time to start losing weight!
He started his consultation visit by telling Dr. Kerendian what many other people have also said:
"I am sick of YO-YO Dieting, and I am sick of taking my blood pressure pills."
On that day, Dr. Kerendian promised him an end to both of those issues.
Those promises have both been delivered to Angel within this short period of time, plus many more benefits:
He has lost 50 lbs of fat
In addition to discontinuing his blood pressure pills, he has maintained better than normal blood pressure under Dr. Kerendian's care.
His heartburn is now resolved
His previously "borderline" cholesterol is now "great" cholesterol.
He is getting better sleep and more exercise tolerance
He feels better than he has in many years, and he contributes that to the personalized medical care that he is getting from Dr. Kerendian and his staff.