Shelly Rio: Actress and Model*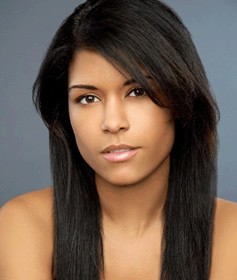 Thank you Delight Medical and Dr. K for giving me my life back!  Before my 2nd child I was 130 lbs and I was acting, modeling and I had a lot of confidence in myself.  By my 9th month in my second pregnancy I was 215lbs and when I had my 6 week check up I was 190 lbs..  By that point I gave up and decided I wasn't going to model anymore and I would be a stay at home mom.  I eventually went down to 175lbs from working out on my own, but then I came to a stand-still, as we all do with weight loss.
I started researching  for  a doctor in LA and found Dr. K.  I started going to Delight Medical in Nov. 07 and by Jan. 08 I lost 25lbs.  Dr. K was even surprised by how much weight I lost because it was the holidays and you usually gain weight.  Now I had 20 lbs. to go and I was having problems getting that off, it's always that last 10-20lbs that is hard to get off.  Well, Dr. K switched up my plan and I dropped another 20lbs.  Because of Delight Medical I was able to go back to modeling and get my life back.  If I never met Dr. K, I would still be 175lbs or more.  When I first told my mother-in-law about Dr. K, she said I was crazy and that I wouldn't lose weight from a shot, then when I dropped my first 25lbs, she was asking me for Dr. K's number, lol.  She ended up losing 50-60lbs right before her wedding and she looked beautiful.
Now we're in June 09 and I continue to go to Delight Medical for other things.  Being in the modeling industry it is very hard to maintain a perfect body, especially since no one has one.  Magazines can airbrush your flaws, but T.V. can't.  I needed to get rid of the cellulite I had on my legs and the fat pocket I had where my butt and thigh meet.  Some people call it butt thigh and it's impossible to get rid of it by working out.  Dr. K told me about Mesotherapy and how it can dissolve your fat in problem areas and how it can help get rid of cellulite.  Of course I signed up to get it done and I'm now on my third session and I've already lost 2 inches on my thigh, you can now see the curve in my booty and it's not butt thigh, and I see a 50% difference in my cellulite.  I can't wait to finish all my sessions and see the total transformation.  Thank you so much Dr. K and Delight Medical!!
Shelly Rio