Angela: Mesotherapy*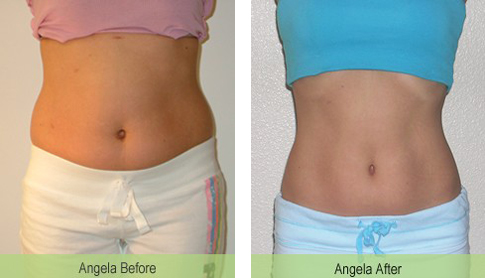 After having 3 kids, and gaining some belly fat, I tried for over a year of strict and regimented diet and exercise plan with my husband who is a professional trainer and very knowledgeable in nutrition and weight loss methods.
But whatever I did, my belly pooch WAS STUBBORN and it just would not go away. Being a nurse myself, I researched mesotherapy and I noticed mixed reviews on the Internet blogs. And after visiting multiple doctors, I decided to allow Dr. Kerendian to work on my belly. I made this decision not only because of his excellent bedside manner and professionalism, but because he was the only one who explained everything in detail to me and wanted me to fully understand how the procedure worked before he started working on me. He is extremely caring with his procedures.
After seeing a few of his patients, I was convinced that I was going to do it. It took me about 5 sessions to get the body that I had prior to my pregnancy. I am extremely happy with my belly. He also treated my leg cellulite, which smoothed out after session #2.
Angela G.