Rebekah: 75 lb. Weight Loss*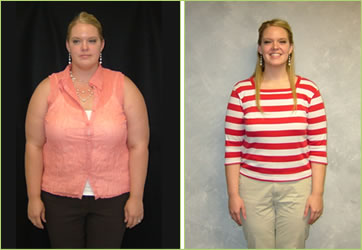 All my life like I've always been very social. I've had lots of friends and I've liked to do lots of different activities. But when you're the fat girl, it's hard. I felt uncomfortable in my own skin. I didn't feel like I could do what I wanted to do.
Starting Profile Sep-06
Wt: 265 lb
BMI: 40 Extreme High
BP:150/90
Medical:GERD on prevacid, Fatty Liver, Metabolic Syndrome, Back Pain, Leg swelling, Insomnia
Fat Mass:
121 lb = 46% of body
Neck Size : 16
Waist Size : 47
Hip Size : 51
Current Profile Jan-07
Wt:190 lb
BMI: 29 Low Cardiovascular Morbidity Risk
BP: 110/70
Medical:GERD on prevacid – Resolved,
Fatty Liver – Improved,
Metabolic Syndrome – Resolved,
Back Pain – Resolved,
Leg swelling – Resolved,
Insomnia – Resolved
Fat Mass:
66 lb = 34% of body
Neck Size : 13
Waist Size : 40
Hip Size : 43
I think when I started taking on the OPTIFAST program, it was my first step in starting to love myself because I was taking care of myself and I hadn't done that before. I'd put other people first and I hadn't taken care of what I needed to do and that was to be a healthy person. Since I've been on the OPTIFAST program I'm doing the right thing. I'm healthy, I'm treating myself better. The thing is, for people to love you and it can be in a friendship role or in a romantic role, any kind of role, you have to love yourself first. If you're not loving yourself first then how can other people love you?
I have lost 68 lbs since I started the program and my back problems have gone away, I had acid reflux problems that went away. I wasn't feeling as stressed at work anymore because I was getting exercise, sleeping better and I was losing weight so my body was functioning better. With the OPTIFAST program you feel results and there is a sense of accountability because of the relationship you build with the staff. I really liked working with my doctor because from a medical standpoint he was giving me tools that helped me understand what was going on in my body. I think that's why it works so well, you see the results right away.
The most important thing you have to think about is this is a lifestyle change. It really has to be a lifestyle change, otherwise you're not going to be successful. You do have to learn to eat. I have learned that I can't eat as much. And that's okay. It's not a magic pill. But it's something that if you're willing to try it and actually stick with it, it'll work for you. I think the biggest change for myself is I feel like me. I mean it's a holistic thing. I wish I could pinpoint one thing but like I feel like – this is Rebekah. This is the size, this is my self esteem, this is me. I feel empowered, like I could go out and take over the world or do whatever I want. I'm not limited anymore.
Optifast has changed my life. Holistically it's changed my life. It changed my mindset, changed my body and it's changed my soul. I feel like a better person.